Migun Massage Bed
Located in our Therapy Room, this bed incorporates the healing powers of jade, infrared heat, acupressure, spinal exercise and massage.
Migun Automatic Massage beds have been used all over the world for several years. Even within a short period of time, people have reported that health conditions improve faster than with any other treatments tried before.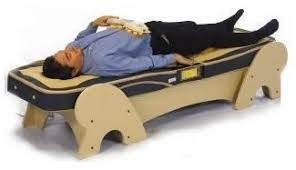 The Migun massage bed incorporates principles from the following five healing practices:
Acupressure: The practice of applying pressure to "meridian points" on the body to relieve pressure and stress
Acupuncture: The practice of isolating blockages of Qi energy (or Life energy) in the body to relieve and prevent health issues
Chiropractic massage: Using massage to help align and release the spinal pressure that cause issues in the nervous sustem
Massage: Targeted masssage treatment used to relieve muscle tension, pain and stiffness throughout the body
Infrared therapy: Using light to treat conditions such as soreness, anxiety, acute & chronic pain and promote relaxation
"Clinical studies at the University of California, Irvine, and in other countries reveal that regular Migun thermal massage lowers cholesterol and blood pressure, improves circulation, strengthens the immune system, decreases glucose levels for diabetes, reduces lactic acid, increases lymphatic flow and reduces levels of acidity. Migun has been described as the ultimate power 'nap', (Natural Awakenings Healthy Living, November 2006).
Experience relief from:
Muscular aches and pains
Soreness
Headaches
Arthritis
Anxiety Improved circulation
Lymphatic movement Detoxification
Improved digestion
Relaxation
And much more.
Relax and enjoy a 15- to 30-minute head-to-toe massage like no other, including gentle stretching and acupressure holding points.
Cost:
60 Minutes: $15 | 30 Minutes: $8